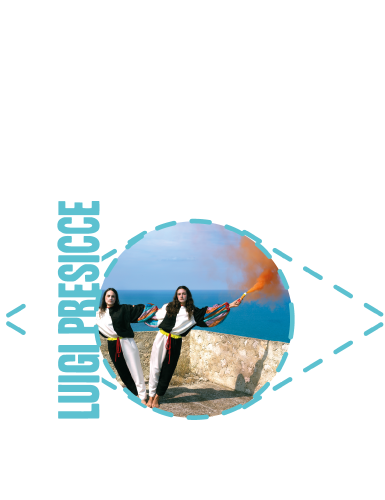 A performance that is intended to give center stage to an often-overlooked detail. The visit of Nembrot, King of Babylon, to the construction site where armies of workers were at work to build the immense tower of Babel in the Seinear – which occupies almost the entire painting and landscape – in the painting by Pieter Bruegel the Elder.
Our Nembrotto, as Dante calls him, arrives at the foot of one of our coastal towers which is about to be somehow "continued" and increased in its height. The performance does not celebrate successful completion of the works, but an ordinary phase of the construction process. The king, in the way of our days, has hired a company of developers to increase the height of the existing tower and thus its transmission capacity. The Tower of Babel has become a large relay antenna, a transmission tower. From the prototype that the architects show to the customer, we understand that the tower houses up to three transmitters. Behind them, the coastal tower still goes on serving its hundreds-year-old watching and signaling functions through the presence of human figures that make themselves heard through nautical smoke bombs.
Luigi Presicce (Porto Cesareo, 1976) lives and works in Florence. He studied at the Academy of Fine Arts in Lecce. He decided not to defend his final thesis. In Lecce he founded, together with other artists, Archiviazioni, to explore and reason on the Contemporary South. His research has been influenced by independent studies. He has participated in several artistic residencies in Italy and abroad, and has won numerous prizes and awards, including the Epson Art prize (Como) and the Emerging Talents Prize, CCC Strozzina (Florence). He has created and done several artistic performances in European and non-European festivals and events.
#custodiamolaculturainpuglia