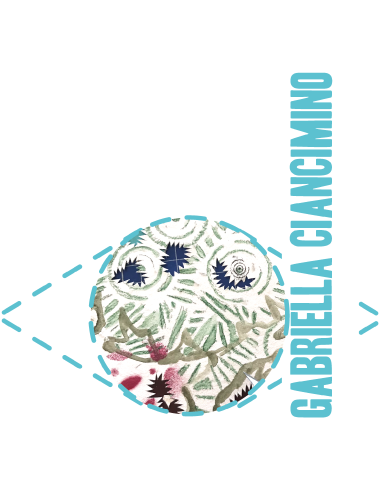 Radio Fonte Centrale_Stazione Puglia
Specimens of Centaura pumilio L., known as Crete Cornflower, found on the southern Ionian coast (a "wandering plant" according to Gilles Clément's definition, found in Crete and North Africa from to Egypt to Syria and Palestine). Shipwrecked migrants who accidentally land on the coasts of Puglia, but also those who today are in a state of social, cultural, political and economic disorientation. A Mediterranean landscape observed from the land of Puglia and metaphorically depicted as a combination of plants and people. A landscape of interweaving narratives -of historical resistance(s) for humans and biological resistance(s) for plant species-, that has brought to life previously unknown or little known local stories and legends recovered by Gabriella Ciancimino. Local stories that Ciancimino returns to us by means of her graphic works on paper of Radio Fonte Centrale_Stazione Puglia. A parallelism between what is endemic and what is not: meeting the Other, men, shipwrecked people, plant species. Contemporary art can become a catalyst for change.
Centaura pumilio L. is the iconographic protagonist of the drawings, mounted on shaped metal frames recalling Art Nouveau writing and decorations. The drawings are made on original papers, seed paper, handmade paper, superimposed and cut with a scalpel. This plant species is at risk today, its graphic rendering blends with the textures of ink and metal buttons, with the imaginary maps of Ottoman captain Piri Reìs (Gallipoli, 1470 c. – Cairo, 1554) and other elements. A dense interweaving of signs emerges from the background, a reference to both the plant and human roots of the narrative.
A soundtrack – composed by the Sicilian reggae group Shakalab – adds to the graphic and sculptural elements. A track conceived as a song celebrating a time of reawakening that, aired from a tower in Puglia reaches Gibraltar through the sea currents, and from there spreads across the oceans to "conquer" the entire globe. A reawakening to experience Oneness and not separation, the law of contemporary world.
This venue is connected to the previous venue and the subsequent venue. It houses works by Elena Bellantoni (Tricase Porto) and Luigi Presicce (Vieste)
Gabriella Ciancimino (Palermo, 1978) chooses a nomadic lifestyle, participating in numerous artistic residency programs on the study of relational dynamics and communication. She studied at the Academy of Fine Arts in Palermo, a city where, in the same years, she worked as a democratically engaged journalist. She has participated in exhibitions in Moscow, Barcelona, Turin, Milan and Venice.
www.ciancimino.it
#custodiamolaculturainpuglia